Kei Toume (冬目 景 Tōme Kei) is a manga artist and the author of the original Sing "Yesterday" For Me manga series. She was born on April 13, 1970 at Kanagawa, Japan. [1]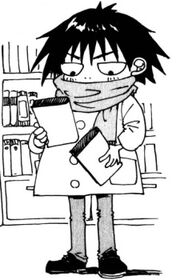 She studied at the Tama University of Art in Tokyo. She made her manga debut with 'Rokujô Gekijô', which was printed in the magazine Comic Burger in 1992. The manga won her the Shiki prize in a contest held by Kodansha in 1993. A year later, her follow-up manga 'Mannequin' also won a prize. She started the serial 'Hitsuji no Uta' in Comic Burger in 1995. After the disappearance of this magazine, it was continued in Birz. This serial ran for six years, and was adapted into a radio play and animated film. In 1997, she began 'Yesterday wo Utatte' ('Sing Yesterday For Me'), a manga inspired by a song of the Japanese rock group RC Succession. In addition, Toume contributes to a lot of fanzines and specialized magazines, and is also active in video games and films. [2]
Community content is available under
CC-BY-SA
unless otherwise noted.